Le Truck Village – 7th & 8th December
We are delighted to invite you to our FREE FOOD tasting events on Wednesday 7th and Thursday 8th December from 11am at Le Truck Village.
Le Truck Market offers up to 250 products at great prices and we are giving you the chance to sample a great selection of products.
► On Wednesday 7th December
The temperatures are dropping, but we'll make sure you keep warm with a traditional homemade soup.
You'll even be able to recreate it as all the ingredients can be found at Le Truck Market.
• Here's a copy the recipe
► On Thursday 8th December
You can sample a selection of our very tasty ready meals.
Simple and fast to prepare, enjoy a wide range of delicious meals when visiting Le Truck Village after a long day on the road, or when time is of the essence.
We look forward to seeing you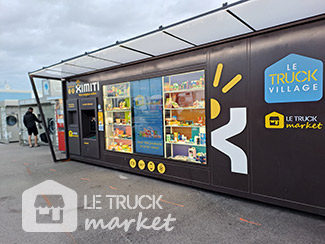 A SPECIAL FESTIVE TREAT FOR YOU
SPEND €6 AND GET €2 OFF* at Le Truck Market.
Simply enter the promotional code « XMAS22 »
*Offer valid from 7th to 31st December 2022